Cussing Parrot
Motion activated cussing parrot cusses at people that walk by. This cussing parrot has many different naughty sayings!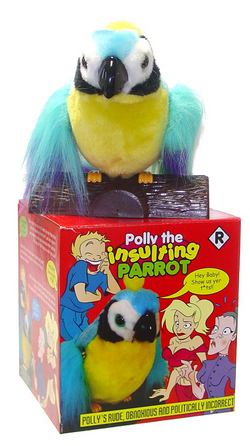 BEWARE! THIS PARROT CUSSES LIKE A DRUNKEN SAILOR!

Polly the Talking Parrot looks like your average run of the mill decorative stuffed parrot. Who knows, maybe he can even talk. When someone moves close by, the Cussing Parrot sure can talk! When his motion detector is activated he cusses like a drunken sailor while his wings flap. "Does Polly want a cracker?". No, "Polly wants a !@#$% cracker!". The Cussing Parrot says this and several other hilarious phrases that will leave you and your guests totally shocked. Requires 4 AA Batteries - not included. Cussing Parrot is 8" tall and weighs 2 lbs.

You've got to be so careful what you say these days, but our Polly the Talking Parrot isn't, and lets them rip with one sensitive and rude wisecrack after another. The Cussing Parrot is one dirty little bird. Polly looks innocent enough sitting on his little perch, but when the Cussing Parrot detects motion, he lets the expletives fly! In a fun parrot voice, Polly insults anyone who crosses in front of him, and make you want to punt him like a football.


Cussing Parrot has 8 dirty insults!
THIS WEEK SPECIAL SALE!
Store price $19.95
Only $14.95 per set
Poop Merchandise
Please check out our online store for funny poop gag gifts!
Poop Photo Gallery - Poop Facts - Fart Facts - Poop Stories - Fart Sounds - Poop Quiz - Link to Us - Names for Poop - Dog Poop Photos - Dog Poop Video - Prank Call Videos - Comedians - Comedy Clubs - Comedy Groups - Funny Jokes - Prank Videos
© 2013 Poop Prank Inc. - All Rights Reserved


Please link to our website - CLICK HERE!
This site does not use any real poop. Victim will receive fake dog poop.
Cussing Parrot