Shock Lighter
Our shock lighter looks exactly like a real lighter until they get shocked. Hand the shock lighter to a friend or family member and watch their face!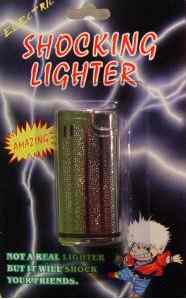 This shock lighter is the ultimate gag gift. Just press down on the button and instead of a flame, you'll get a shock that you'll never forget!

AAA Battery included with shock lighter!

Guaranteed to get laughs !!!
THIS WEEK SPECIAL SALE!
Store price $14.95
Only $8.95 per set
Poop Merchandise
Please check out our online store for funny poop gag gifts!
Poop Photo Gallery - Poop Facts - Fart Facts - Poop Stories - Fart Sounds - Poop Quiz - Link to Us - Names for Poop - Dog Poop Photos - Dog Poop Video - Prank Call Videos - Comedians - Comedy Clubs - Comedy Groups - Funny Jokes - Prank Videos
© 2013 Poop Prank Inc. - All Rights Reserved


Please link to our website - CLICK HERE!
This site does not use any real poop. Victim will receive fake dog poop.
Shock Lighter