Fake Poop Pen Gag Gift
You will love this funny fake poop pen gag gift. The kids at school will think twice about stealing your fake poop pen!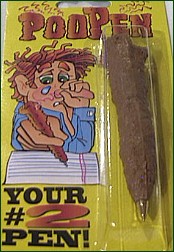 This fake poop pen is actually a real working pen! Measures about 4" long and make of soft rubber plastic. This ballpoint pen looks exactly like a real human turd. Can you imagine the face your teachers and parents will give you when they see you writing with this fake turd in your hand?? This is one of the funniest gag gifts you can get!
THIS WEEK SPECIAL SALE!
Store price $9.95
Only $4.95 each
If you want this trick to be even more realistic, squirt some of our famous "Liquid Ass" fart spray on it, which will make it smell exactly like real poop. "Liquid Ass" is sold seperately in our store.

Spray this Liquid Ass fart spray on your fake poop pen
Poop Merchandise
Please check out our online store for funny poop gag gifts!
Poop Photo Gallery - Poop Facts - Fart Facts - Poop Stories - Fart Sounds - Poop Quiz - Link to Us - Names for Poop - Dog Poop Photos - Dog Poop Video - Prank Call Videos - Comedians - Comedy Clubs - Comedy Groups - Funny Jokes - Prank Videos
© 2013 Poop Prank Inc. - All Rights Reserved


Please link to our website - CLICK HERE!
This site does not use any real poop. Victim will receive fake dog poop.
Fake Poop Pen