Fake Parking Ticket
Our fake parking ticket is a perfect for getting people who double park. Its time to get some fun revenge with this funny parking ticket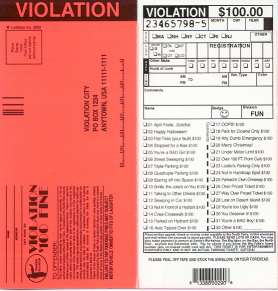 Sick and tired of seeing people double or triple park?? Get revenge!!

You will receive a set of 5 fake parking tickets

These fake parking tickets are an absolute riot! A great way to show an inconsiderate motorist what you think of them. Slap one on the windshield of rude parkers, co-workers and neighbors, they will think they received a real parking ticket. Also, these fake parking tickets are fun to use on your family / friends as a joke. Just put one on their car right before they are about to leave, it?s so funny to watch them run out to the car thinking they have received a real parking ticket. The fake parking ticket is very high quality, each ticket is printed on thick card stock. Tickets measure approximately 7'' high by 3.25'' wide.
THIS WEEK SPECIAL SALE!
Store price $9.95
Only $4.00 per set
Poop Merchandise
Please check out our online store for funny poop gag gifts!
Poop Photo Gallery - Poop Facts - Fart Facts - Poop Stories - Fart Sounds - Poop Quiz - Link to Us - Names for Poop - Dog Poop Photos - Dog Poop Video - Prank Call Videos - Comedians - Comedy Clubs - Comedy Groups - Funny Jokes - Prank Videos
© 2013 Poop Prank Inc. - All Rights Reserved


Please link to our website - CLICK HERE!
This site does not use any real poop. Victim will receive fake dog poop.
Fake Parking Ticket